Weather Routing Inc (WRI) Will Be Providing Forecasts Daily During The Buc Cup Beginning January 23 Through January 26, 2018.
Click on the WRI Logo Below to View Forecast.

Jupiter Beach Resort & Spa to Offer Discount for Buccaneer Cup Tournament Participants.
Call (561) 746-2511 for Reservations. Use Code BUP CUP 0120 To Receive Discount.
54th Annual Buccaneer Cup is in the Record Books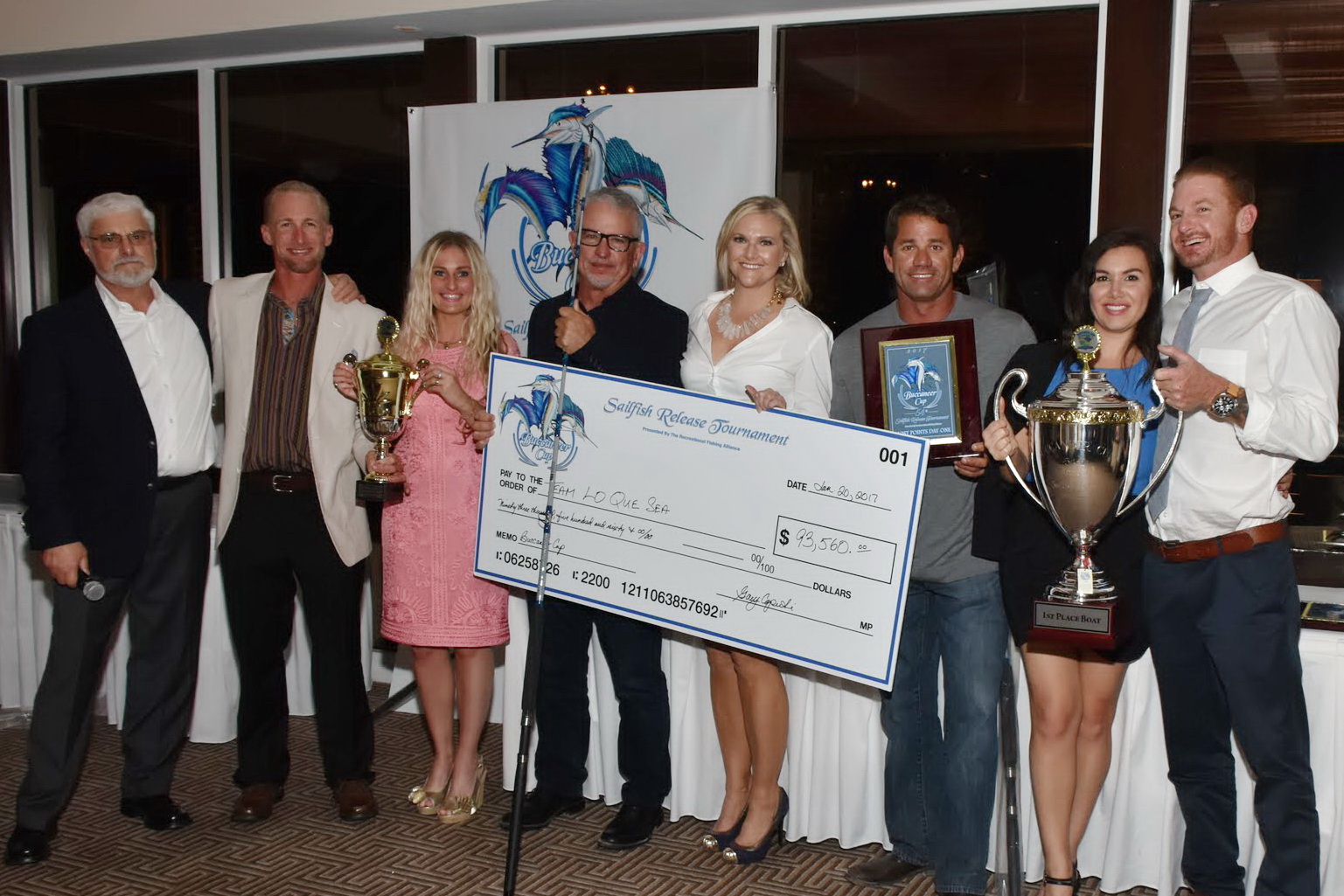 Lo Que Sea Sweeps the Field
The 54th Buccaneer Cup Sailfish Release Tournament was held January 19 to 21, 2017 and while fishing was slow overall, the event was a resounding success. Twenty-six of Florida's top teams gathered to battle it out to benefit the Recreational Fishing Alliance with Tony Huerta's Lo Que Sea taking the lion's share of the awards, the coveted Buccaneer Cup Top Boat trophy and a check worth over $93,000!
The Captains Meeting was switched from the Buccaneer Restaurant to the Sailfish Marina two weeks before the event, but Courtney Bowden, the tournament event manager did a spectacular job of getting the new venue organized in record time. Her superb direction and tireless work on behalf of the Buccaneer Cup have helped make it one of the best organized and classiest billfish tournaments on the coast. Just ask any of the teams that participated this year. The number of boats registering showed a marked increase over 2016 and the captains meeting was a friendly affair that included a review of the rules by tournament director Gary Caputi and the assignment of observers by Greg Moore from the International Game Fish Tournament Observers, followed by snacks and an open bar in the main restaurant.
Day One fishing began with the velvet voice of Captain Penthouse Paulie Pietraska emanating from the official radio room high atop the Jupiter Beach Resort and Spa announcing , "Lines In." Fourteen minutes later Matt Mitrow on the Bac In Five radioed in the first release of the day and it was game on with the fish playing hard to find and even harder to entice to hit. By day's end the Southern Run, the beautiful 41 Bahama of Richard Robinson with Captain Skip Dana at the helm, was leading the field with three releases followed closely by Buc Cup newcomer Martin Truex's Clamaholic, with noted fishing writer and captain Karl Anderson leading this novice team into second place. Old No. 7 was third and Weez in the Keys was fourth, followed by Krazy Salts, Lo Que Sea, Fa La Me and Reel Captivating with most positions precariously separated on time rather than by points.
With so few releases racked up on Day One it was obvious that the tournament was wide open and anyone who landed on a pod of hungry sailfish on Day Two had a chance at winning it all. With hopes of better fishing on everyone's minds Saturday dawned clear and with just enough wind to make it a little easier for live bait fishermen to keep their kites flying. Unfortunately, the fishing was slow and getting slower with a flurry of activity late in the afternoon, As lines out was looming at 3:30 PM Barry Weshnak's 55' Viking Miss Annie, with Randy Yates at the helm, started a run from behind racking up four releases on top of the single they had on Day One. Tony Huerta's Lo Que Sea trolled up two fish to add to the two from the day before, Southern Run tacked on three more releases on live bait and Reel Easy put two on the board. Releases on day two totaled just 20 sailfish for the field when Penthouse Paulie called lines out and the last fish of the tournament was recorded by Frank Napurano on the Miss Annie, which proved a fateful catch indeed.
The scoring was accomplished using Reel Time Apps, which was linked to the official radio room computer scoring team and updated minute-by-minute so teams could follow along on lead changes throughout the fishing days. At tournament's end the results were matched against the boat's catch logs, while the IGFTO observers made sure everything was on the up and up and our polygraph team stood by should any discrepancies arise.
The top finishing boats were Lo Que Sea taking first, Southern Run in second with Miss Annie coming from behind to squeak into third and secure several Calcutta categories. In addition to the first place loving cup Tony and crew received a set of gorgeous, high-tech custom sailfish rods by RH Custom Rods of New Jersey, which he said couldn't have come along at a better time as he was planning to purchase new ones for the boat after the tournament.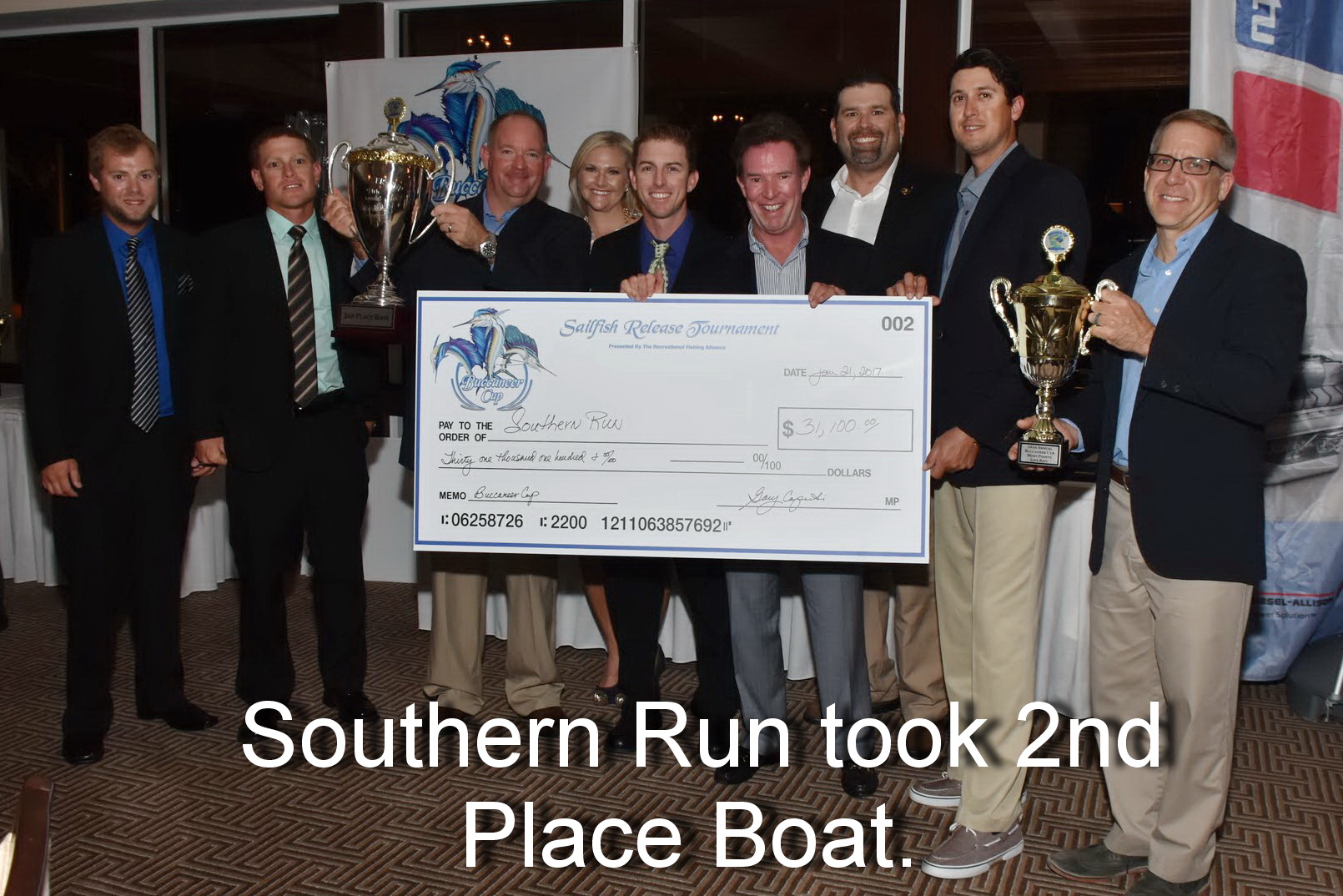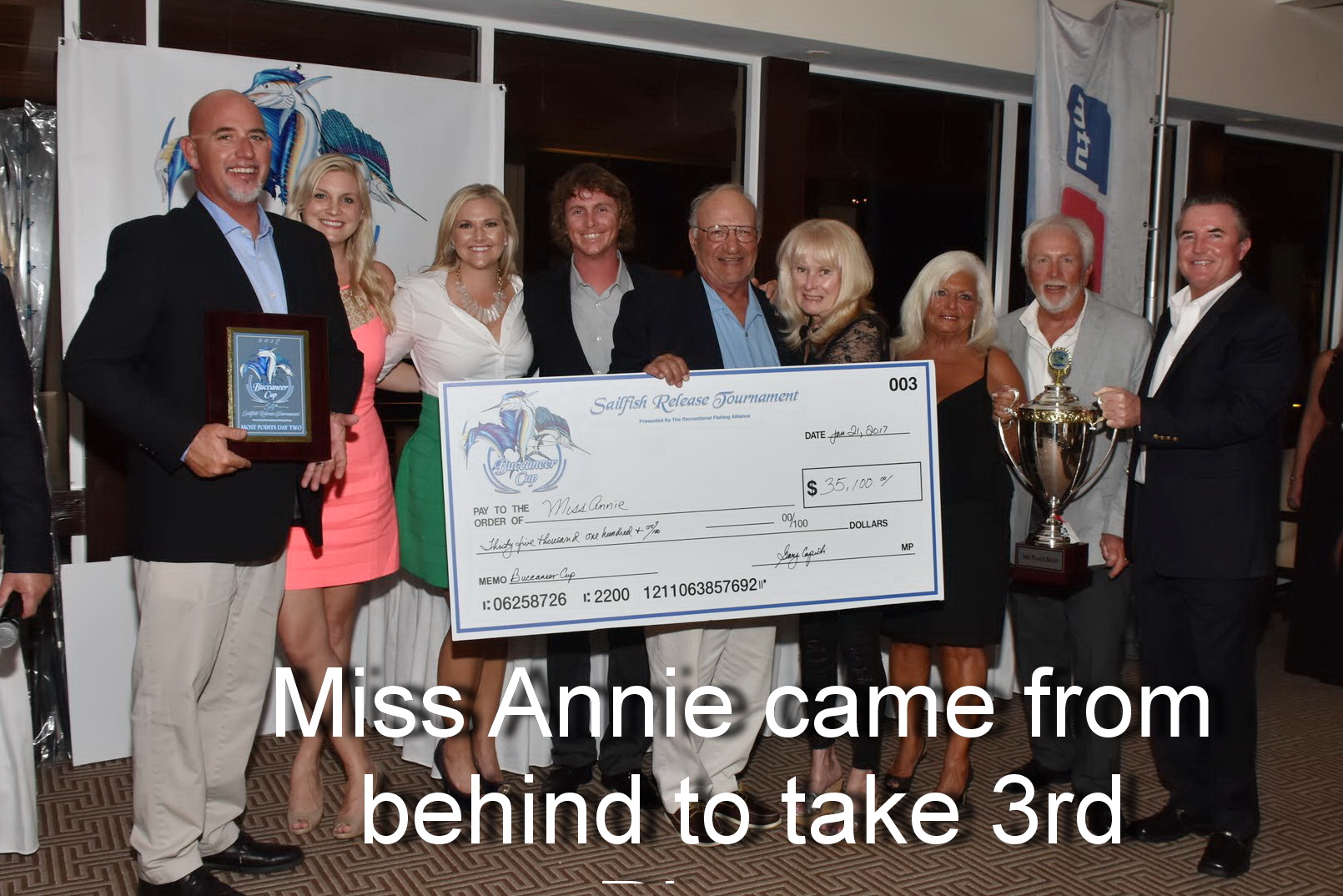 The top angler trophies went to Taylor Beckworth on the Fa La Me in first, Tony Huerta on the Lo Que Sea in second and Wallace Higenbothem, also on the Lo Que Sea taking third. Candy Steiding on the Reel Candy was Top Lady Angler and just out of the running for an overall top angler position on time.
The Buccaneer Cup Tournament Cash award for the Most Points on Live Bait ($5000) went to Southern Run and the Most Points on Dead Bait ($5000) went to Lo Que Sea, which pocketed over $93,000 in total purse for their win. The InTheBite Top Captain loving cup was awarded to Captain Kevin Paul, who skippered the Lo Que Sea to victory.
The awards banquet was held at the Sailfish Club of Florida with free water taxi service provided by the tournament from Sailfish Marina. It was a great time with fantastic food, a multi-hour open bar, a silent auction of delightful tackle, boat equipment, baskets of cheer and art.
The goal of the Buccaneer Cup is to benefit the Recreational Fishing Alliance (www.joinrfa.org) and that was accomplished indeed with a check to the organization for over $70,000 thanks to our anglers and the generous support of a host of great sponsors including MTU Diesel, Florida Detroit Diesel Allison, Johnson & Towers, Viking Yachts, HMY Yacht Sales, Yamaha Outboards, Jupiter Beach Spa & Resort, Contender Boats, American Custom Yachts, Interlux, Seakeeper, Garmin, Jarrett Bay Boat Works, Cummins Marine Power, American Venture Boats, Bahama Boats, Christi Insurance, American Fishing Wire/Hi-Seas, Release Marine, Viking Service Center, Reel Time Apps, Sailfish Marina, Outrigger Marine Products and Bausch American Towers. We look forward to seeing all our teams and more next year for the prestigious 55th Buccaneer Cup where we can make sportfishing history again.